The one and only
The StandArt Hotel Moscow is the first Russian hotel to join the international community of Design Hotels™, a worldwide network uniting more than 300 independent hotels in over 50 countries.

The original retro-futuristic style, a location in the historical center of the city and high culinary and gastronomic standards have all allowed the StandArt to become a fully valued Design Hotel network member and to debut the network in Russia.

The StandArt Hotel Moscow showcases something exclusive and innovative, a balance of progressive global trends combined with high comfort. Each room is unique in its design, offering a stylish retro-futurism of the halcyon days of the 1950s, and a level of comfort provided by modern facilities and accouterments for the maximum possible convenience of guests: bedding and bath accessories, bottled fresh water, HD TV Magic Mirror, to mention just a few.
More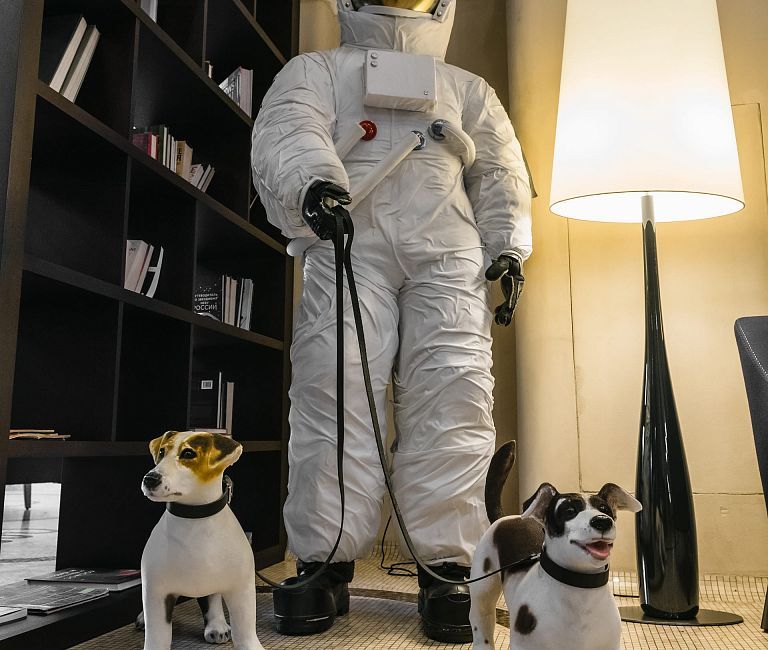 The StandArt Hotel Moscow
The hotel is located in the heart of the historical and business districts of Moscow, near the main tourist attractions, business centers, museums, and all the major spots for rest and recreation. The hotel's location and the availability of private parking means it is convenient for car-users as well as being within walking distance of public transport.
Behind the art nouveau exterior, designed by the famous Russian architect Pavel Andreev, residents and visitors of Moscow can expect something original in all of the 105 rooms, each of which allows guests to discover a portal to a new adventure. The focal point in each room is the art objects, created by Stanislav Tratsevskiy. Hand-painted panels and monochrome graffiti wall murals complement the original design and open the door to the unexplored new worlds.
New tastes in YURA restaurant on the second floor are presented by Andrey Korobyak. His exclusive cuisine is the mix of pure taste of the high-quality ingredients and chef's international experience in mixology.
The hotel's third floor boasts a fitness studio. The equipment of the fitness studio unobtrusively complements The StandArt Hotel's general ambiance; the smooth rounded lines of the treadmills reflect the soft curves of the warm, wooden interior. The fitness equipment is from Technogym, a recognized leader in fitness and gym equipment and its specially selected new ARTIS brand. For those who prefer to exercise outside, however, there are special outdoor-programs, including running sessions in the open air. After an intensive workout, our highly qualified specialists are on-hand to give massages to help guests warm-down and relax.
The Kinari SPA in the StandArt Hotel offers to plunge into the magical atmosphere of the Kingdom of Thailand with a European level of comfort. The oldest healing practices, accompanied with the calm melodies, magical aromas and soft flickering of candles, will open up new sensual dimensions and bring an inner and outer perfection.